How to Predict Your Call Center Needs with Staff Forecasting
There is no doubt that call centers continue to be the frontline teams directly interacting with your customers. Even with the rise in popularity of other digital customer service channels, like email and chat, voice calling remains one of the most popular channels in addressing customer issues and providing support.
In fact, according to a recent Zendesk study, "More than 50% of customers across all age groups typically use the phone to reach out to a service team, making it the most-used channel for customer service." (Zendesk)
As a call center manager, one of the most critical parts of the job is properly balancing your staffing needs while still delivering a high-level customer experience. This of course is much easier said than done. Reduced budgets have made hiring and scheduling far more difficult, especially in recent times.
However, trends are much easier to anticipate when you have a sound understanding of your historical call center data. Before planning for the future, analyzing your past agent performance, call volume and customer satisfaction are all items to consider and reference. A clear understanding of your historical data will help you better predict your future customer service and call center needs.
Are You Under or Over Staffed?  
Whether you are a manager, agent, or key stakeholder, you are affected by the number of calls coming into your organization at any given time.
For example, when your team is understaffed, they may experience an influx of calls without the support to do their jobs appropriately. Customer experience often degrades quickly as your agents are unable to handle each caller with the care and attention they deserve.
Conversely, if the team is overstaffed, then your agents are likely scrolling through their social media or checking their personal security cameras to check in on their dog. This is not only inefficient for the whole team but costly to their entire organization.
If either scenario rings true, then most likely you've been struggling to find the right balance between maintaining staffing levels according to your budgets and possibly dissatisfying customers, which could easily translate into losing revenue.
What is Staff Forecasting?
Within call centers, Staff Forecasting is the exercise of evaluating future customer interaction volume with the number of agents needed to effectively keep pace with that volume.
Staff forecasting can be calculated by pulling all the necessary historical call center data, using a series of formulas and manual equations, and a number of pivot tables and excel spreadsheets. However, most management teams may neither have the time or energy to invest in building reports of this nature.
Maintain a Manageable Workload and Customer Satisfaction 
Fortunately, Brightmetrics™ services include Staff Forecasting within our available reporting templates. By running your call center's historical call data and your determined service level factors through specific Erlang C algorithms, our Staff Forecasting feature presents you with a simplified, yet refined forecast of the suggested number of agents and a predicted call volume broken out by day of the week and the time of the day.
By having this report and the insights it combines from your daily and weekly call data, you can give yourself and your team peace of mind while still remaining productive and stimulated. The Staff Forecasting report illustrates a forecast summary of the following week broken out by days of the week in 4-hour time windows. For a more refined view, the report can even dive deeper into the daily details, which can focus the staffing recommendations into 15 minute or 1 hour time windows depending on the group.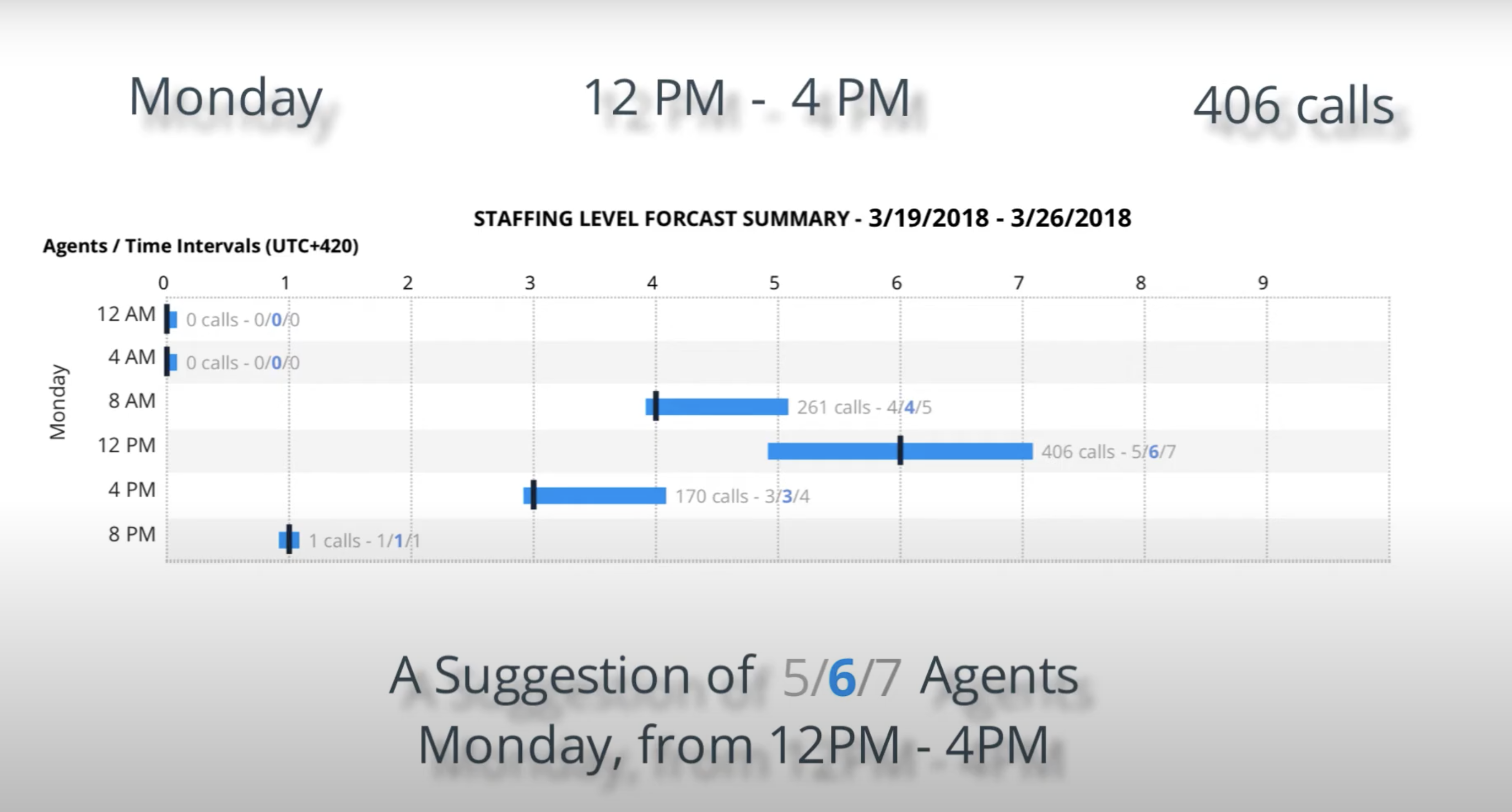 Management teams closely monitor operation budgets and targeted service levels. Depending on your business priorities and resources, teams must look at their unique situation to determine the right balance between staffing, and customer satisfaction and experience. With Brightmetrics Staff Forecasting, call center managers can make simple and informed decisions about their call volume, the appropriate staffing levels to handle that volume, all the while maintaining costs down. If you'd like a closer look at how Brightmetrics analytics and reporting can help optimize your call center, schedule a demo today!