Our Year in Review: 2019
As we break out to usher in the next decade (hello the 2020s!), we're going to take a minute to reflect on our year. You might have missed some of these announcements, but this was a big year for Brightmetrics™! We were busy extending our services to new platforms, releasing significant enhancements, and adding talented new people to the team. For us, delivering these new ways to improve our value to you has been like Christmas, come early!
Radiance
After nearly a decade since the founding of Brightmetrics and the launch of our web-based application, we released the highly anticipated new user interface: Radiance. This project was the culmination of a lot of input and user feedback to what our Classic user interface was missing. We heard your comments and acted in 2019! And of course, our new and improved interface is a free upgrade for all of our customers to enjoy. There is no cost associated with Radiance, and we have made it available to everyone. One huge benefit associated with Radiance is we'll now be able to push iterative, continual improvements to the look, feel, and experience of Brightmetrics as well as release functional enhancements over time. One recent example you can check out now is the addition of Dark Mode. Check out a preview of our new Dark Mode Wallboards below!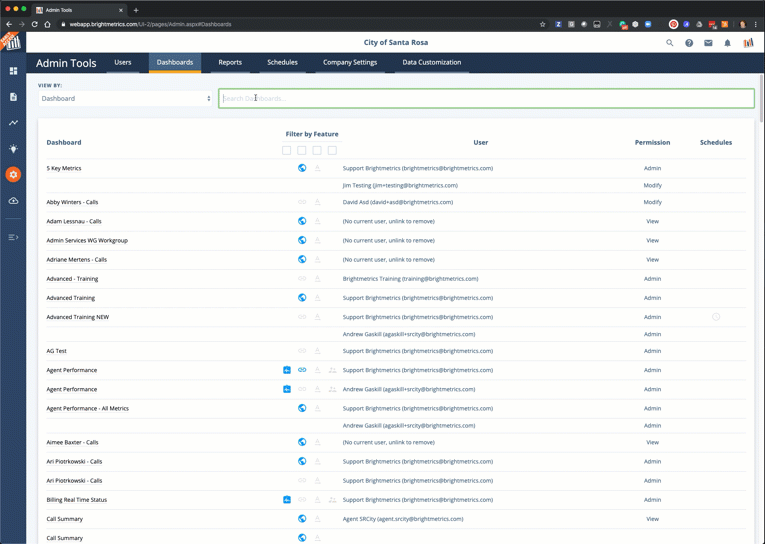 New Partnership
As more organizations shift their contact center infrastructure towards full or hybrid cloud-based solutions, Brightmetrics finds more opportunities to expand the value delivered by our services. Up until 2019, Brightmetrics was only available on the Mitel MiVoice Connect (ShoreTel) system. We were proud to announce the first of these expansions with the release of Brightmetrics Analytics and Dashboards for the Genesys Cloud (PureCloud) platform! The partnership with Genesys Cloud was announced live in Colorado during the Xperience 19 event. As a consistent leader in Gartner Magic Quadrant, Forrester Wave, G2, and quite simply the praise of their customers, Genesys Cloud's Customer Experience platform (built on Amazon Web Services (AWS) felt like a perfect place to partner. We've been thrilled to connect with new people and organizations on Genesys Cloud!
Genesys Cloud AppFoundry
We've decided to take this partnership to the next level by becoming a Premium AppFoundy Partner! As a Premium Application within the AppFoundry Brightmetrics is fully integrated with Genesys Cloud's billing system for quick and seamless deployment, starting with a free 30-day trial! If you're already a Genesys Cloud customer and interested in implementing Brightmetrics, you can find more information about us in the AppFoundry or click here.
Our Team
It's important to note that these new advancements and growth don't appear all by themselves. Just like Santa at the annual Big Dance, these great things couldn't happen without amazing people committed to delivering valuable services for our customers. We grew our team almost 50% in 2019, but more than the number of new folks, our capabilities and domain expertise continued to expand with each of these new team members' gifts.
Looking Ahead
Looking ahead to 2020, Brightmetrics has a very bright future indeed. Our team will continue to ship enhancements and new features. We'll continue to expand within the Genesys Cloud ecosystem, meeting new customers and partners along that journey. Keep a close eye out on our continued expansion out to new platforms. And finally, we'll enjoy building and fostering healthy relationships with our customers and vendors. We hope everyone has a strong finish to 2019 and find themselves positioned for a successful 2020.
Happy New Year from Brightmetrics!
"2019 was a huge milestone for Brightmetrics in many obvious aspects, but what has me excited is the foundational growth of a team and platform that are going to allow us to connect with and deliver value to more people, across a diversity of contact center solutions in 2020."
– Jim Lewis, CEO & Founder of Brightmetrics